...
Table of Contents
| | |
| --- | --- |
| maxLevel | 2 |
| exclude | [1//2//3//4//5] |
...
Navigating Common User Interface Elements
The image video below shows elements of the header bar at the top of a TestNav page. See the table below the image for details on each element.
Click images to enlarge.

Image Removed
Section

Description

1

The next arrow takes students to the next question. Students can also click the previous arrow to go back within the same section.

2

The 

Review

 button opens the Review drop-down menu. Students see the status of each question and bookmarked questions. They can click any question in that section to review it.

3

The 

Bookmark

 button marks a question with a bookmark in the 

Review

 drop-down menu to remind students to review the question later. 

4

The toolbar provides various tools for students to work through questions. Tool availability depends on item requirements. As a result, not all items display each of these tools.

For more details on these tools, see TestNav Tools.

5

The User drop-down includes the Logout of TestNav option, as well as any 

accessibility options

 set during student registration in the assessment management system.
Include Page
| | |
| --- | --- |
| | IR:_TN_UserInterface |
| | IR:_TN_UserInterface |
The video below shows elements of a timed test.
Complete and Submit a Test
...
The student sees the Section Exit Warning after clicking Submit Section. This warning reminds the student that he or she cannot return to this section after exiting it. The student can click Yes to go to the next section, or No to close the warning message and review questions in that section.
Mini Menus
At the end of a section or test, the student can click on either the Not Answered icon or Bookmarks icon to see a mini menu. These show unanswered questions or bookmarked questions within that section. The student can click on any question within each mini menu to revisit that question. See an example in the screenshot below: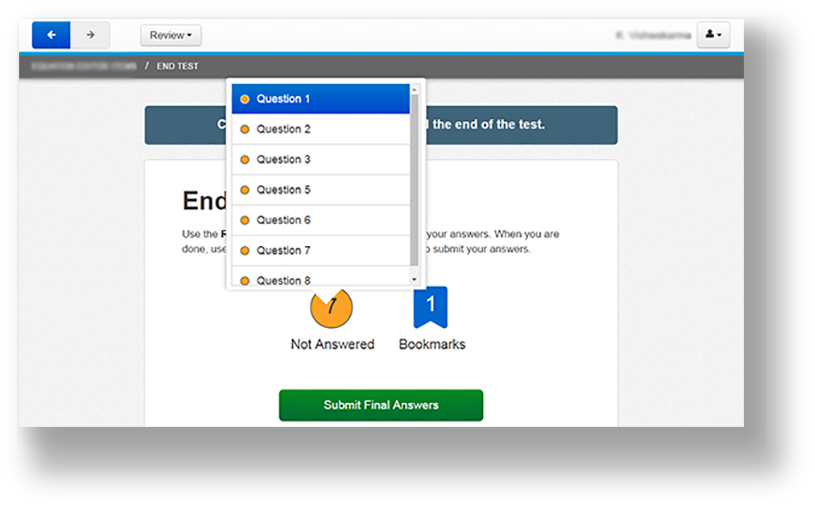 Image Added
End of Test Page
The student sees this page at the end of the last section of the test. This page shows the section number, the number of unanswered questions, questions answered, and bookmarked questions. The student can click Review to review questions only in that section, or click Submit Final Answers to submit and log out of TestNav. The student cannot go back into the test after clicking Submit Final Answers.
...
When the student clicks Yes, Submit Final Answers, TestNav logs the student out and displays the Log Out Complete page.
Demonstration Videos
The videos below provide demonstrations of specific TestNav pages and features.
Review Drop-down and Bookmark Button
...
Timed Tests
...
Mini Menus
Coming soon.