Access Demographic Performance Level Summary Report
The Demographic Performance Level Summary Report focuses on demographic performance levels by grade. Depending on your role and permissions, you can access this report at the state, local education agency (LEA), district, or school levels.
At each level, the report contains rows for parent organizations (if they exist). These organization rows display the demographic performance levels for each grade within that organization. At the most granular level, a school-level report contains organization rows for the state, the parent LEA (if it exists), the parent district, and the selected school. Within that school's row, you can see all demographics with data for each grade within that school.
You can compare each student demographic's performance to that of other student demographics in that school and the higher organizations that that school belongs to (for example, district or cluster and state). This information helps you identify each student demographic's strengths and weaknesses compared to others who took the same assessment.
The demographic's performance is labeled, depending on your project (for example, Minimal Understanding, Partial Understanding, Satisfactory Understanding, or Extensive Understanding).
If available as an online report, you can view preliminary Demographic Performance Level Summary results throughout the testing window, as student tests are continuously completed and scored. If configured for your project, a Preliminary watermark appears on these, as the report does not yet reflect all student tests or certified test results.
After all scoring is complete and certified, you can access final PDF versions of these reports.
Prerequisites
Confirm your role and project under your name, and your district or school in the Organization dropdown. If you have access to multiple projects or organizations, click each dropdown to select the one(s) you want to view.
Tests must have been previously scored.
If configured for early reporting:
Pearson begins providing preliminary reports when at least one test has been submitted.

If all items are not yet scored (for example, open-response items), reports indicate % correct. The reported % correct reflects only scored items.
---
Step-by-Step
From the main menu, click (or tap) the organization type (for example, LEAs, Districts, or Schools) for which you want to access reports.
If you select a higher-level organization (for example, LEAs or Districts), then click an LEA or district from the list that appears.




Report options vary, depending on your main menu selection:

If you clicked the highest-level organization in the main menu, you can access Reports tabs for it and each organization level below it (for example, State Reports, District Reports, or School Reports).
From lower organization levels within the main menu (for example, Schools), you can click that tab to see reports for that specific organization, or click

a

Reports

tab for an organization level below it (for example,

District Reports

or

School Reports).



Select a row for an academic year and test administration and options for available reports appear above the header row.


4. Depending on report availability, you can click Download Final PDFs or Online Reports (coming soon), and select any available Demographic Performance Level Summary Report.
The example below is an PDF version of the Demographic Performance Level Summary report. These contain several elements. See callouts in the image below (layout and formatting slightly differ between online and PDF versions, and performance level colors vary by project):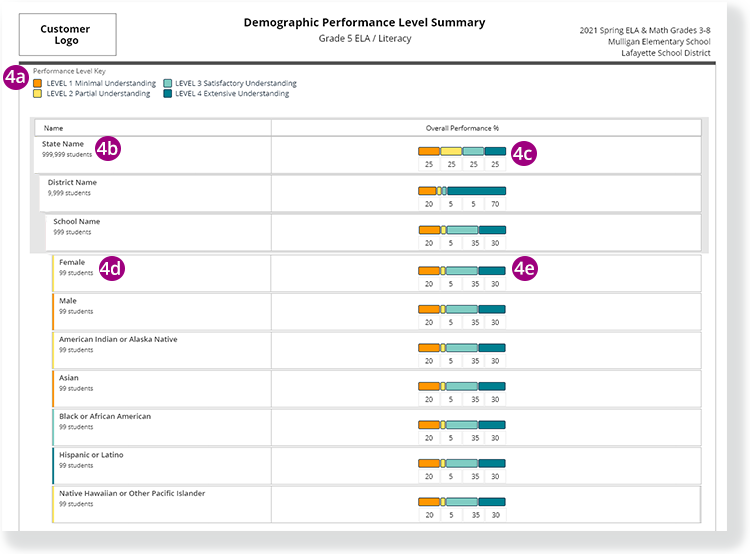 4a - The Performance Level Key colors indicate the demographic's performance on the test.
4b - Each organization appears in order from the highest level down, with the number of students in each.
4c - To the right of each organization name, the performance level bar shows performance level colors. The number beneath the colors indicates the percentage of students within that demographic that scored within that performance level.
4d - Each demographic row contains its performance level to the left of the demographic and number of students in that demographic.
4e - To the right of each demographic, its row also contains performance-level colors with numbers below, representing the percentage of students in that demographic that performed at that level.
When the report contains data for less than four (varies by project) students in an organization, the message, Data suppressed to protect student privacy appears in place of all performance data for that organization's row.