Access Dynamic Roster Reports
Access Dynamic Roster Reports
Dynamic roster reports list students and their performances on one or more tests.
The Pearson Access Report Builder dynamically generates reports based on selections you make in each Report Builder section — Who, What, and How. You can change your criteria and generate various reports for different organizations, student groups, or test(s).
+
Categories and Descriptions...
---
Prerequisites
Confirm your role and project under your name, and your district or school in the Organization dropdown. If you have access to multiple projects or organizations, click each dropdown to select the one(s) you want to view.
The Pearson Access user interface and available options change based on the organization level to which you are pinned. If you select a district or school, you see different options than if you are pinned to a local education agency (LEA) or department of education (DOE).
Tests must have been previously scored. Pearson provides these reports based on responses received from your class. This report only reflects those provided responses.
---
Step-by-Step
From the main menu, click (or tap) Report Builder.


Click an organization or grouping in the Who section, and select from the available options. Click Confirm. By default, all Who options are selected.



Select

at least one Subject and academic year in the What

section. Click

Confirm for each

.





Click

Report Type

and select

a

report type, and then click

Confirm

.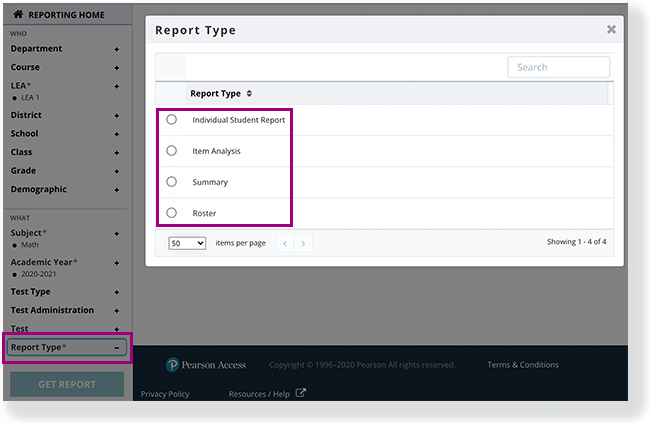 5. You can also scroll past Report Type to expand options in the How (Columns) and How (Rows) sections to indicate how data appears. The report can include these columns, if selected.
Columns also vary by project:

Score Type indicates the score the student earned (for example, raw or scale).


Score indicates the test's hierarchical level at which the score is being provided. For example, the Overall Test, the domain, the strand, or the subject.


Non-Numeric Score

displays any information that an administrator or teacher wants to detail on student performance.

% Correct

graph outline represents 100%, and the color within the outline represents the percent correct.

Performance (Level) i

ndicates the performance level.

Test Count indicates the number of students included in that row.

All Levels (Subject, Domain, Strand, Standard) includes

lower-level data (for example, strands and standards). You can click to expand the various levels to find data specific to that level.
Rows vary, depending on the report type that you selected. See examples below: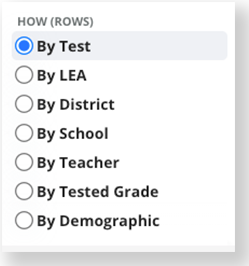 6. Click GET REPORT.
You can click Download Report at the top-right of the report page to download a CSV version. Layout and formatting vary by report.
You can click Reset All at the top of the filter options to remove all previously selected filters.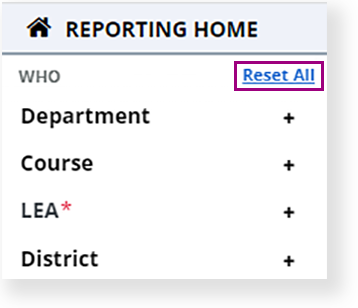 The example below is an online version of the Roster report. See callouts for element descriptions. The screenshot below contains sample data and mock text.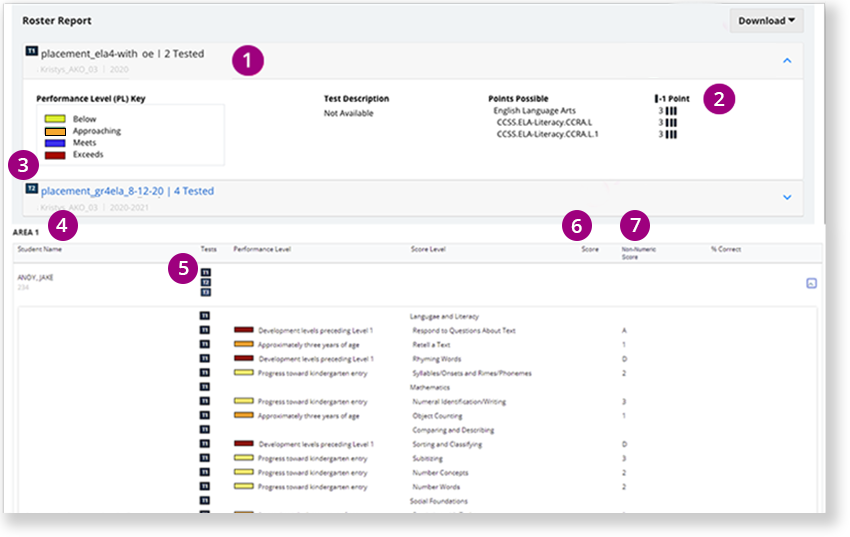 1 - Each test blade includes the colored test identifier icon, test session name, number of students within that session, test administration, academic year.
2 - Expand the blade to view the Performance Level (PL) Key, Test Description, and Points Possible with any correlated domains or standards.
3 - Tests appear sorted by earliest submitted test and follow in descending order.
4 - Student results appear below and include columns you selected within the Report Builder menu.
5 - You can click the test identifier icon to view the test name as you scroll down in the report.
6 - The Score column indicates how the student's score out of points possible.
7 - You can see any additional information that an administrator or teacher wants to detail on student performance in the Non-Numeric Score column.