Access Student Progress Report
Access Student Progress Report
You can use the Student Progress Report to analyze student performance from one test administration to another. You can also track retakes and whether the student improves or regresses from one retake to another, and identify when a student tests off grade.
Test assignments are limited to students in specific grade ranges. When a student must test outside of this range, the system labels the test as off-grade.
You can base your students' academic goals on these results, and align your curriculum to effectively influence student learning.
---
Prerequisites
Confirm your role under your name and your district or school in the Organization dropdown.

If you have access to multiple projects or organizations, click each dropdown to select the one(s) you want to view.

Tests must have been previously scored. Pearson provides these reports based on responses received from your class. This report only reflects those provided responses.
---
Step-by-Step
From the main menu, click (or tap) Reports.


Select your administration.


On the Assessment Results page, you can use the Administration Selector to change the at administration any time. Next to the Administration Selector, you can click the Report Options icon to alter how the system presents the data.

Click the more options icon until you can select Tests.
- If you have access to more than one organization, first click the more options icon to select Districts.
- Then, select Schools, and then Classes or Tests. You can also search within each organizational level.

You can view data in two possible ways:
- Click a colored section of the test or class bar graph, and then either a performance level or View Performance Details.



- Click a percentage or count. Note that the values may appear as percentages or raw scores, depending on your program.



See the callouts below for details on options at the top of each reporting page.


5a - You can click the Test Administration dropdown to change administrations anytime.
5b - Click the Report Options icon (

) to toggle between Performance Levels or Achievement, and Percentages or Counts.
5c - Breadcrumbs at the top of the page indicate each organization you clicked through to get to the report.
5d - You can click the arrows to go back to the prior page.
5e - The bar graph contains performance color indicators and counts/percentages for each. You can click a portion to view only students at each level.
5f - You can click View All 100% to view all students at all performance levels.
6. Click the Report Name* dropdown to select Student Progress.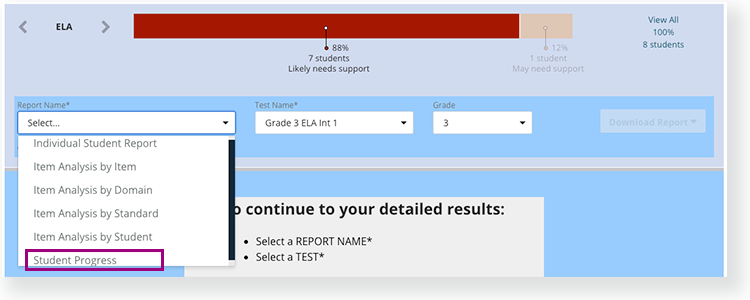 7. Click the Test Name* dropdown to select the test. Click the Grade dropdown to select the grade.
The system displays a list of students and their test administration details. See details below.
Updated Screenshot Coming Soon
7a - Performance Level colors identify student skill mastery/performance on each test - for example, Likely needs support, Likely does not need support, May need support, or Above. Depending on the project, these mastery level terms may vary. You also may see scale scoring or raw scoring, which is the percentage of points earned versus possible points for a test attempt.
7b - Retake labels identify whether the student has retaken a test. A plus (+) or minus (-) indicates performance improvement or regression.
7c - Exceptions identify a test that included any exceptions to the standard testing guidelines. O (Offgrade) identifies a student test assignment that fell outside of the grade range specified for that test.
7d - You can click any Retake label to view retake details for that test. The retake details list all retake results and dates to current.
7e - You can click the prior or next test subject to see the report for each.
You can also download the report.